Facilities
Facilities available:-
The Gymnasium/Multi exercise Hall is situated on the first floor of sports complex and consist of all types of strength conditioning apparatus. The state –of-the-art fitness center has something for everyone.
The equipments consist of smith machine, hack squat, cable cross, Olympic lifting platform, wall bars, three multi stations, seven single stations namely bicep curl, chest press, shoulder press, peck deck, seated rowing, leg press, lats pull down along with free weight section, free benches as well as stretching area for essential cooling down.The student and staff members avail this facility on nominal charges of Rs 50/- per month in the morning and evenings sis day a week.

SWIMMING POOL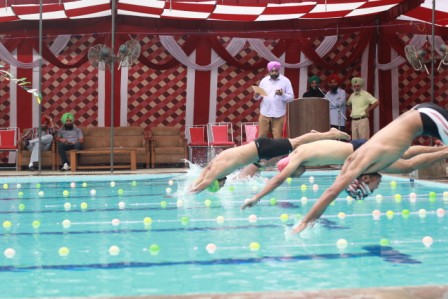 Swimming pool in our campus is environmental sustainable facility that serves athletic training, competition and leisure needs. It can accommodate 50-60 swimmers and has no diving facility. The facility has 25m x12m dimension with 4 ft. depth at the shallow end and 6 ft depth at the deeper end. The water is fresh with no chlorination as it is causes irritation to skin and eyes. The pool is cleaned every week thoroughly and is filled with fresh water. The used water is drained out to be used for irrigation purpose of hockey and football grounds and lawns. The water in the swimming pool is maintained and disinfected with alum and bleaching powder. The amenity include accessible washrooms and changing rooms and stores.
The timing and charges are as follows:
1. Students and staff members 100/-
2. Staff members, their spouses & kids above the age of 12,school teaching staff 100/-
3. College staff kids below the age of 12 50/-
4. Any other outsider (with special permission) 1000/-

TIMMING:-
1. Ladies staff members, girls & kids below age of 12 yrs 6:00 am to 7:00 am and 4:00pm to 5:30pm
2. Gents staff members, boys and kids above the age of 12 yrs 7:00am to 8:00am and 5:30pm to 7:30pm
The rules and regulations are as follows:-

BILLIARD ROOM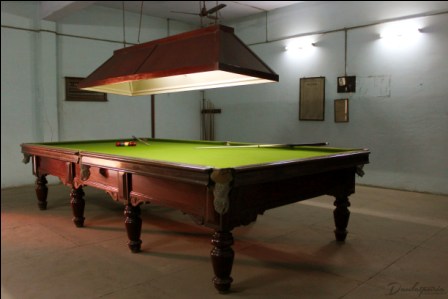 One traditional table with balls and cues is installed in the room. Billiard is regularly played by staff and students in the group of four per hour. The charges are as follows:-
1. One time membership fee per semester per player 100/-
2. Playing fee per hour per player 20/-
TIMINGS:
1. Group I 4:00pm to 5:00pm
2. Group II 5:00pm to 6:00pm
3. Group III 6:00 pm to 7:00pm


LAWNTENNIS
The Tennis courts are located near the main gate of the college and is a sport facility operated and managed by the Department of Physical Education & Sports at the Guru Nanak Dev Engg. College, Ludhiana. The centre has a total of 3 outdoor courts which provides a great playing option. The facility is free of cost and can be used in the mornings and evenings for the play.


COLLEGE STADIUM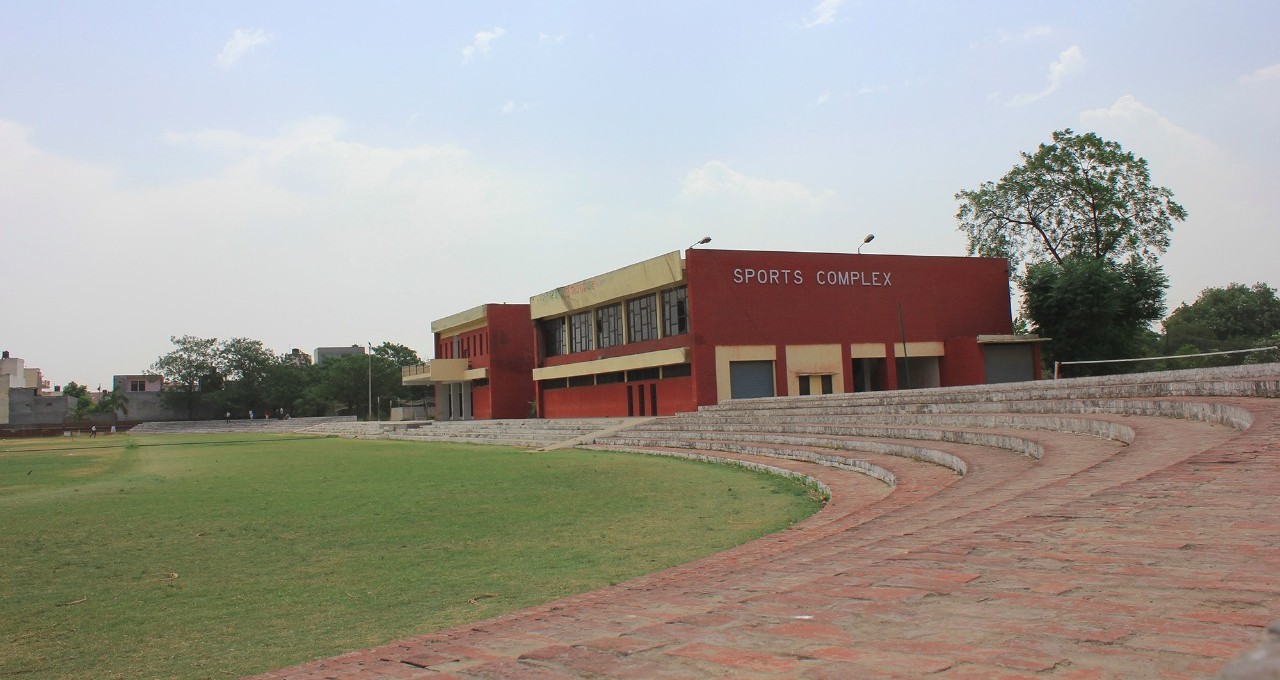 The Stadium is an open-air, grassy turf stadium comprising 400m 8 lane standard track with cricket pitch at the center and is used primarily for track and field events along with cricket . The stadium has a pavilion with stairs and can seat 1,500 in the main grandstand. The facility is used for Training, practice and competitions. University Inter-college Athletic Meet and the College Athletic Meet is hosted annually. The pitch facility is also used to conduct Inter-college Cricket Championship and Cricket Intramurals from time to time. The stadium is a popular location for Punjabi songs and commercial shoots. It has flood lights for illumination at night and provides amenities such as players retiring room, washrooms, changing rooms, media balcony etc. The pavilion building has department offices, stores, guest rooms, tabletennis room, billiard room and a gymnasium.

HOCKEY: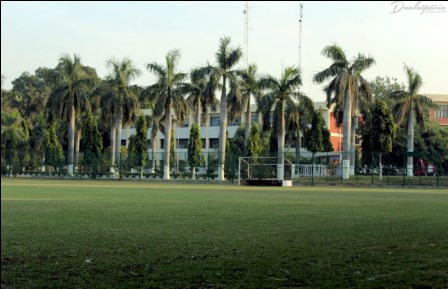 One natural grassy field for hockey
(Dimensions:100yards long by 60 yards wide)
Intramural and Extra mural are regularly conducted for boys
Rental charges per day:1500/- per day


FOOTBALL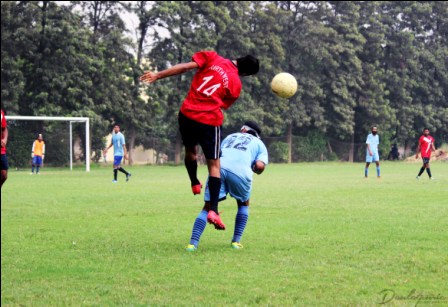 One natural grass football field
(Dimensions:110 yards by 70 yards)
Intramural and Extra mural are regularly conducted for boys
Rental charges per day:1500/- per day


BASKETBALL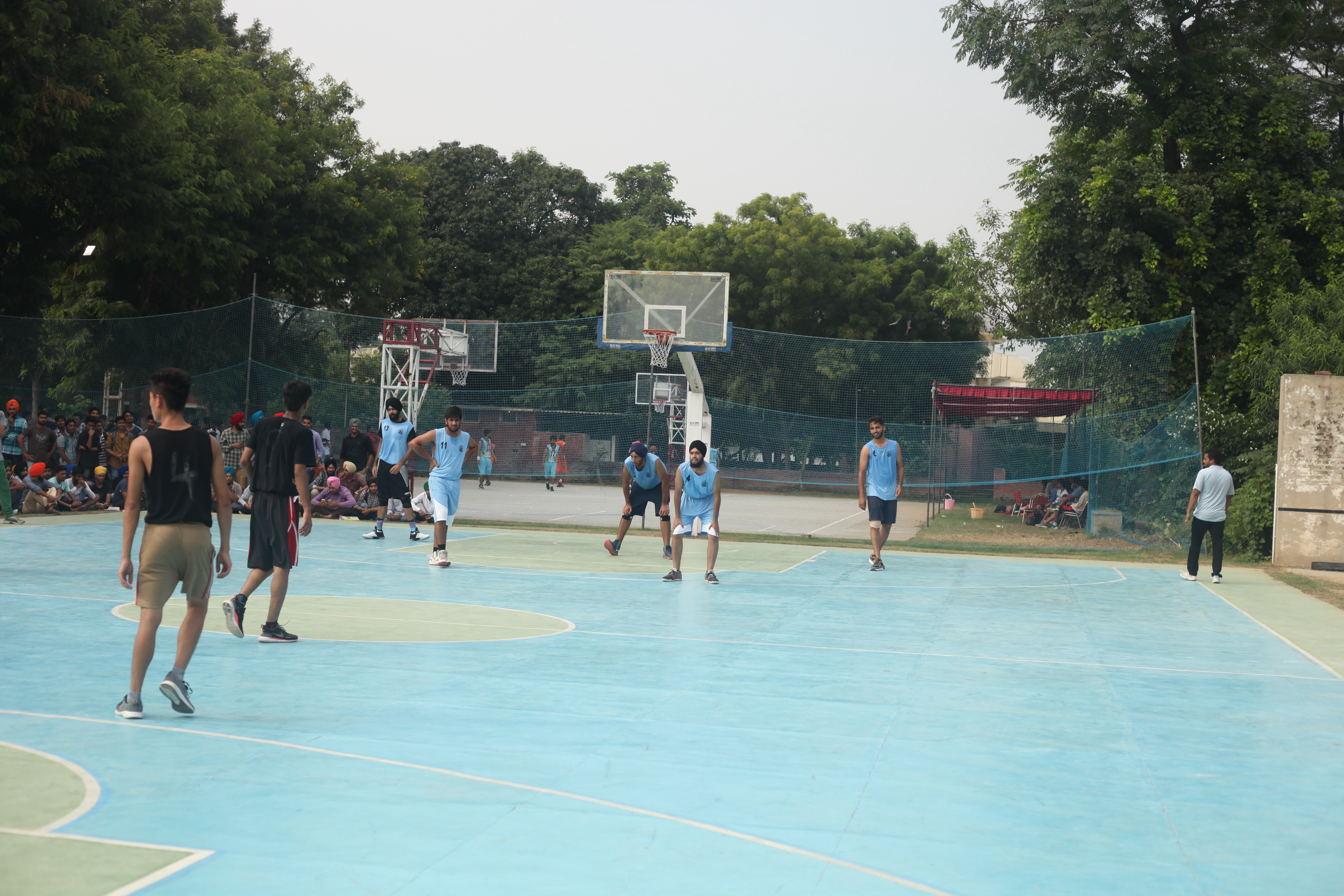 Two cemented Basketball courts (One with food lights)
Intramural and Extra mural are regularly conducted for boys and girls
Rental charges per day: 2000/- per day without lights for both courts
:5000/- per day with lights for both courts
CHESS
Regularly played by students in Sports Complex. Both intramural and extramural activity is conducted from time to time.
CRICKET
A clay pitch is laid in the track and field stadium with 50 yards boundary for Intramural and Extramural activity. Two hard pitches of chips under nets for practice session is available for students.
Rental charges per day:5000/- per day

BADMINTON
Only outdoor one cemented courts is available to students for play.


CYCLING
College provide Cycles and students practice at PAU Velodrome, Ludhiana


VOLLEYBALL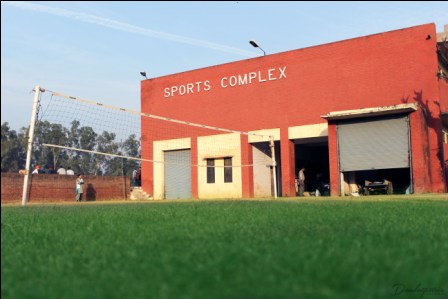 Two outdoor courts with food lights are used for intramural and extramural activity by both boys and girls.
Rental charges per day: 2000/- per day without lights for both courts
:5000/- per day with lights for both courts


KABADDI
One ground for N/S Kabaddi is situated in the track and field stadia and is regularly used for technical and tactical training by college boys team. Intramural are very often conducted.